HEARTY PROTEIN PACKED GNOCCHI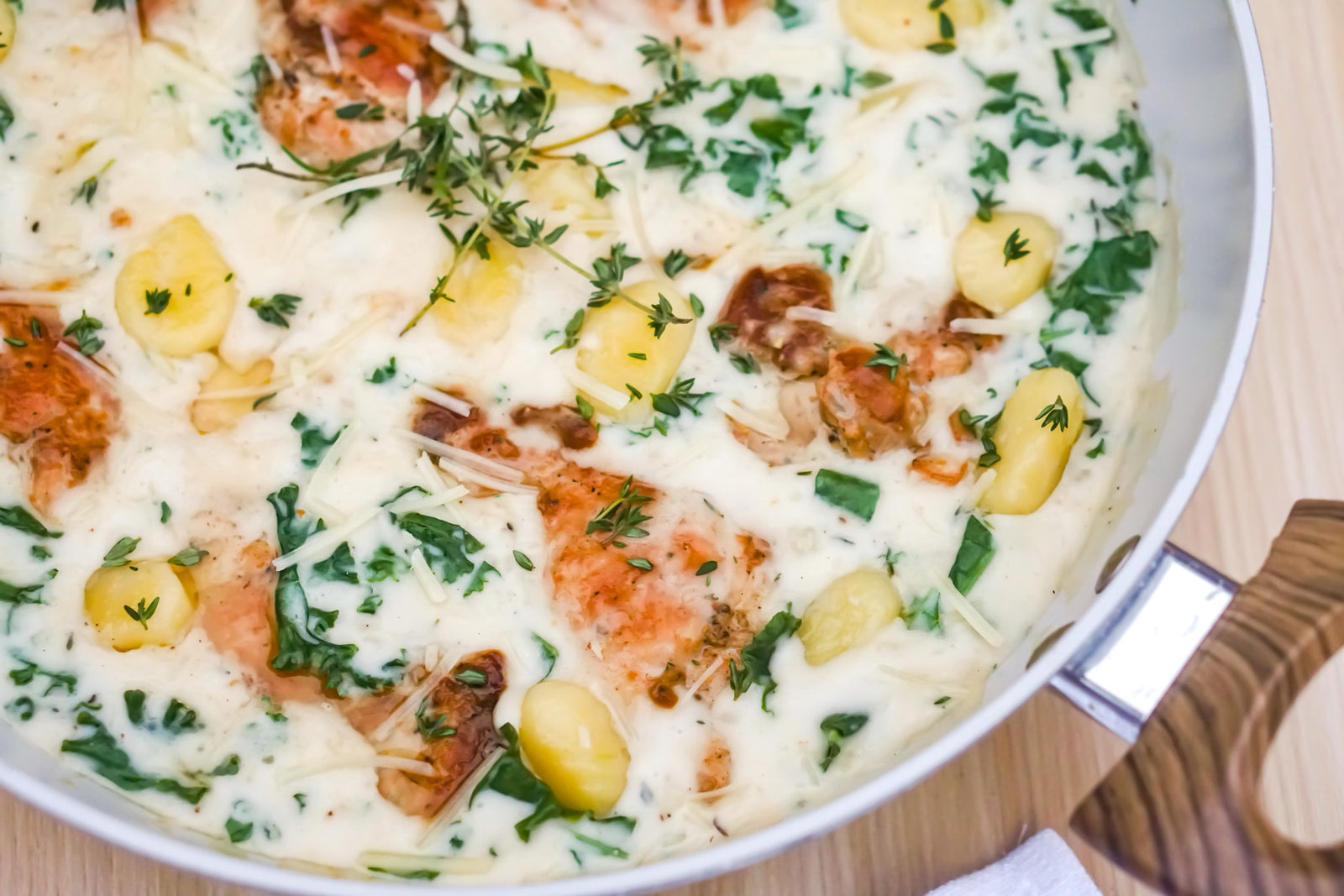 One of our winter favourites! A hearty and healthy pasta that packs a protein punch. You'll love this recipe, actually, your whole family will. 
Yield 4-6 servings
Prep 15 minutes
Cook 45 minutes
Total 1 hour

MACROS PER SERVING
414 Calories
38G Protein
14 Fat
34 Carb
INGREDIENTS:
 1.5 lb chicken thigh
 1, 16 oz packaged gnocchi
Salt and pepper to taste
 6-8 table spoons olive oil
 1 medium shallot
 3 cloves garlic
 2 teaspoons chopped fresh thyme
 4 tablespoons arrowroot flour
1 ½ cup chicken broth
 ½ cup coconut cream or half and half
 1 bunch of kale, stems removed and leaves torn into bite size pieces
 ½ cup freshly grated parmesan
INSTRUCTIONS:
First, season and cook the chicken: Season generously with salt and pepper. Heat 1 tablespoon of olive oil in a pan over medium-high heat. Add chicken thigh and cook until each side is golden-brown and cooked through ( when juices run clear), about 4-5 minutes per side. Once done, remove from heat and set aside, covered to keep warm.
Second, prep your gnocchi: In a separate pan add 1-2 tablespoons olive oil, and add gnocchi. Cook until golden brown on both sides, about 4-5 minutes.
 Make the sauce: Add 3 tablespoons olive oil to a large pan. Add shallot, cook 3-5 minutes, stirring frequently. Stir in garlic and thyme until fragrant, about 1 minute. Whisk in flour until lightly browned. About 1 minute.
Gradually whisk in chicken broth. Whisking constantly until slightly thickened, about 4-5 minutes. Stir in half and half ( or coconut cream ) until thickened, about 1-2 minutes. Add parmesan cheese if desired ( not necessary but more tasty ). Add more salt and pepper till your desired preference.

Put it all together: Stir in gnocchi and kale until the kale has wilted, about 2 minutes. Add chicken. Sprinkle with fresh parmesan and thyme.
Serve immediately. Enjoy!
---